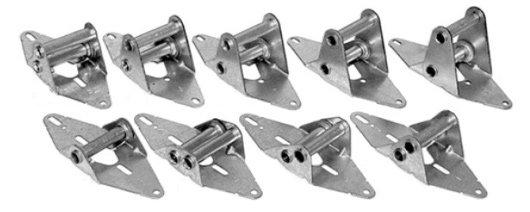 Garage Door Hinge Kit (Double Car Garage Door 4 Sections) 14g - 21 Hinges
Featuring 21 strong standard residential hinges. This hinge kit is meant to be used when assembling single car 4-section garage doors that are approximately 12' to 18' wide and 7' tall.
 Each 14g kit includes 21 hinges:
17 #1 Hinges
2 #2 Hinges
2 #3 Hinges
Please note that this kit does not include fasteners to fasten the hinges to the garage door.
Need a hand with installation?
We can help! Call us at (587)328-1720, email us at gdd-calgary@garagedoordepot.ca, or visit our services page to learn more.